Restringing and Repairs
Get your free quote!
Email Mary on mary@quitecontraryjewellery.co.uk or phone 01223 416651.
Or visit me at an event. See all events.
Jewellery repair services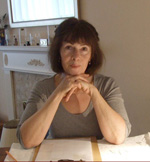 Restringing
Pearl knotting on silk
Lengthening and shortening as required
New clasps, including magnetic
Remodelling & modernising
Careful and high quality repairs
Whether you have a necklace of sentimental value, or an heirloom piece you can be assured that it will be restrung and / or knotted to the highest standard.
Is the clasp on your necklace or bracelet too small?
If you are avoiding a particular piece of jewellery because the clasp is difficult to use then give it a new lease of life with a replacement clasp. Adding a larger or easier to use clasp is a simple task that will make your piece so much more enjoyable to wear.
Happy Customers
"I want to tell you how pleased I am with the necklaces, in particular the light green jade where you have made an ugly necklace that languished in a box, unworn and ignored into an item of beauty. The silver works so well with the piece and a matching bracelet made from the surplus beads is a bonus. I have worn them daily and they have been much admired . Thank you." -- M.D.
"The parcel arrived safely on Christmas Eve, and I was delighted with all the alterations and the way you had resolved the problems with each piece to improve it. Fantastic! My husband looked on as I unpacked each gorgeous little bag, and there were plenty of nods of approval! Thank you so much! -- J.S., Essex
Get your free quote
Email Mary on mary@quitecontraryjewellery.co.uk or phone 01223 416651.